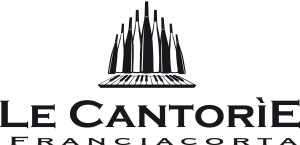 The production of Le Cantorie is currently of about 60,000 bottles a year, achieved solely with the grapes coming from the vineyards of the farm and obtained with a care and a passion for the Vineyard dating long back in the past and which unavoidably lead to LUIGI BONTEMPI, since a child being nicknamed "Balenc", whose love for the earth has inspired the birth of this new wine growing and producing reality.
The range of wines produced by Le Cantorie includes four types of sparkling Franciacorta Dogc: the Brut, the Brut Millesimato, the Satèn and the Rosè obtained with the method of natural fermentation in bottle, typical of the Chardonnay, and Pinot black wine vineyards; two Terre di Franciacorta Doc: the Curtefranca white wine and the Curtefranca red wine; and two soloist red wines: the "Rossogiulia" Cellatica Superiore doc and the "Balenc" IGT Sebino, obtained by Barbera, Marzemino, Incrocio terzi and Schiava Gentile grapes and Cabernet Sauvignon, Cabernet Franc, Merlot, wisely refined in small oak tree barrels.
The wines of Le Cantorie must be savoured and sweetly listened to: for their history, their ability to tell it and the vibrating sensations that they can transmit from the palate to the memory.
LE CANTORIE
Franciacorta  Lombardia

Frazione Casaglio, Gussago (BS)
Via Castello di Casaglio, 24/25
www.lecantorie.it