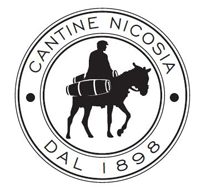 Since 1898, Nicosia. A family with an ardent passion for Sicilian wine handed down from father to son.
A winery with solid roots in the Etna wine culture and a love for rural traditions combined with a relentless search for new horizons embedded into its DNA.Nicosia promotes the best wine growing areas in Sicily, focusing on the finest native grape varieties and the international cultivars that have adapted better to the Sicilian territory, and develops the best raw material through the careful selection of the grapes and the constant care on work in the cellar.
The company has joined the principles of sustainable viticulture and organic farming to combine environmental protection and food safety. Towards zero impact wine.
THE VINEYARDS
MONTE GORNA VINEYARDS
Trecastagni (Catania) – areas B and D of Mount Etna Park
Altitude: 700-750 m. a.s.l.
Vineyard exposure: South-East
Microclimate: temperate climate, with an annual average ainfall of ca. 1,000 mm and wide diurnal temperature range.
Soil: the soil is volcanic, very rich in minerals; the composition of the eruptive materials gave life to composite soils, often made up by small sized pumice stones, known as "ripiddu", found mostly on extinguished volcanic cones such as Mt Gorna. Their elevated drainage capacity and their wealth in potassium play an important role in balancing the grape's maturation process.
Yield per Hectare: above 60 quintals.
Vines per Hectare: 6.000 ca.
Training system: espalier spurred cordon.
BONINCONTRO VINEYARDS
Vittoria (Ragusa)
Altitude: about 200 m. a.s.l.
Vineyard exposure: South
Microclimate: dry and sunny summers; winters characterized by short and intense rains.
Soil: medium textured sandy soils.
Yield per Hectare: 70-80 quintals.
Vines per Hectare: 5.000 ca.
Training system: espalier spurred cordon and guyot.
THE BRANDS
"SOSTA TRE SANTI"
An exclusive collection of long refinement red wines and classic method sparkling wines produced in a limited series, with carefully selected native grapes from the 'Cru' of Monte Gorna and Bonincontro estates.
The name Sosta Tre Santi is a tribute to Trecastagni, the ancient village where the Nicosia winery rises up, and the three patron saints Alfio, Cirino and Filadelfo who, along their journey towards martyrdom, stopped in the town that devotedly worships them even today.
"FONDO FILARA"
The varietal and DOC/DOCG wines of the Fondo Filara selection are made with the finest Sicilian grape varieties grown in the areas most suitable for their cultivation. Etna, Vittoria, Eastern and Western Sicily: from each terroir, its own wine. From each cultivar, its most authentic expression.
"VULKA"
Vulkà is an authentic interpretation of what the volcano represents to the people living in its shadow: powerful nature and regenerative strength. The same vital energy that can be found in the vibrant minerality of these wines. The volcanic origin and the altitude of the vineyards create a unique combination of elegance and and great character.
"HYBLA"
Just a few miles from the southernmost tip of the Italian peninsula, there is an area historically devoted to making high-quality red wines, home to the Cerasuolo di Vittoria DOCG. Hybla is a modern interpretation of this typical wine of Southeastern Sicily. Its ancient and noble origins go back to early 1600s, when the town of Vittoria was founded in the Ibleo territory by the Counts of Modica. This blend of Nero d'Avola and Frappato is a perfect combination of intensity and freshness, elegance and drinkability.
NICOSIA
Sicilia
Trecastagni (CT)
Via Luigi Capuana, 65
www.cantinenicosia.it